28 January – 11 February 2017 • 14-day trip. Starts/Ends at Punta Arenas, Chile. Includes flights to and from Port Stanley (Falkland Is.)
South Georgia has rightly been called 'the most staggering wildlife show on earth'. After our in depth exploration, we are certain you will agree. This seldom-visited corner of the planet is a place we know intimately and look forward to visiting every season. Even our experienced expedition staff, some with more than 100 journeys south, cherish every visit to South Georgia. Traditionally, our visits to South Georgia last only three or four days and are part of a much longer itinerary that includes time spent in Falkland Islands and Antarctica, but, after many years of careful preparation and planning, we can now offer our guests the unique opportunity of eight full days of exploration – double the time traditionally spent in South Georgia. We complete this remarkable voyage with a visit to Sea Lion Island- a wildlife haven in the southern archipelago of the Falklands. Our departure in February is timed to coincide with the height of the polar summer. Days are long and the wildlife will be relaxed after the earlier breeding frenzy in spring. Penguin chicks are playful, their parents coming and going from the sea with bellies full of krill to feed their young. The fur seal pups are especially curious and the sea birds are always soaring in the skies above – a constant on any voyage to South Georgia. Areas covered in snow during our earlier visits will have melted, allowing for epic hiking opportunities ashore. The rusting historic sites sit silently and the colors of the old buildings contrast brilliantly against the green tussock grass, the dark mountains and white snowy peaks for which South Georgia is renowned. Join us for one of the most extraordinary small ship expeditions anywhere on earth.
Onboard Photographic Symposium
An additional highlight of this departure will be the shipboard photography symposium open to all guests. This program runs alongside our regular series of presentations on history, ornithology, geology and the natural world. The members of the photographic team each have a special area of expertise including wildlife photography, landscape and composition, along with technical elements including gear and equipment and computer based processing, file management and storage. We make regular use of our ship-board multi-media studio for breakout sessions and to review and critique our images throughout the voyage. Our photographic goals on this departure will be formed and led by the light available both onshore and on the water. With a varied and diverse itinerary and flexible plans, we aim to make the most out of the beautiful light, even if outside conventional shore landing times. For the photography buffs, this trip is not to be missed!
Overview
This particular departure is timed to coincide with the arrival of spring. Early November marks the beginning of the wildlife migration and commencement of the breeding cycle for many species. Scenes of male elephant seals battling for control of the beaches (and the female harems), the intimate and beautiful courtship rituals of the albatross and antics of the young penguin chicks, will have you believing you are 'on the set' of your very own wildlife documentary. For lovers of remote, small-ship expedition cruising, this voyage ticks all the boxes.

Photography Symposium
On a photography symposium, you travel with a team of highly experienced photographers to improve your camera skills. Five professional photographer mentors with a variety of expertise offer 1 on 1 support and personal photographic critique. You will focus on ideal light conditions while having access to heightened opportunities on deck and on designated zodiacs for photographers. The program is designed for all skill levels and different camera types, no extra charges apply and participating in the photography symposium is optional. Regular programs operate through out the photography symposiums because the professional photographers are additional staff members.

Expedition Highlights
• Outstanding wildlife observation on shore, zodiac cruising and from the ship.
• Focus on key historical locations including Shackleton's grave and old whaling stations.
• Onboard photography symposium.
• Learn about the environment, wildlife, history and ecology from polar experts.
Detailed Itinerary and Activities
Day 1: Punta Arenas, Chile
Our journey commences this morning in Punta Arenas. Here we board our scheduled flight to Stanley in the Falkland Islands. After a short 90-minute journey we are met on arrival and transferred to the pier. Stanley is home to just over 2,000 residents and is reminiscent of a rural town in coastal Britain. It is charming with brightly colored houses, pretty flower-filled gardens, a quaint cathedral and several local pubs. There is time to explore the town before embarkation. Excitement is in the air as we cast off, bound for Antarctica and the adventure of a lifetime.

Days 2 & 3: Southern Ocean
We chart a course bound for South Georgia. This stretch of the South Atlantic is rich in its bio-diversity and showcases an abundance of astonishing wildlife. We will be joined by hundreds of seabirds including the wandering albatross. Giant petrels and smaller Cape petrels are also constant companions as we make our way south. Throughout the day our onboard experts educate us with a series of presentations about the environment, wildlife and history and the locations we hope to visit in the coming days.

Days 4/7: South Georgia
Majestic snow-covered mountains greet us on arrival in South Georgia. We hope to navigate the ship into the historic location of King Haakon Bay. It was here that, 100 years ago, Shackleton and his men made landfall in their small lifeboat, the James Caird, after completing the perilous ocean crossing from Elephant Island. This dramatic location is visited by just a handful of ships each season. One of the most anticipated sites in South Georgia is Salisbury Plain. The black sand beaches and tussock covered dunes are home to a staggering 100,000 ing penguin adults and their young. This is just one of several such king penguin rookeries on South Georgia. History comes into sharp focus as we visit Stromness and Grytviken. Today, the rusted and ghostly remnants seem out of place in such a pristine environment. At the head of the bay lies Grytviken – the largest of the old whaling stations on South Georgia. A highlight of our landing here is a visit to the gravesite of Sir Ernest Shackleton and his loyal right hand man, Frank Wild.

Days 8/10: South Georgia
Our next few days will take us to St Andrew's Bay and Gold Harbor – places that are teeming with wildlife including fur seals, elephant seals and massive colonies of the colorful king penguins. We will explore as much as you desire on foot. Gold Harbor is so called because the sun's rays make the cliffs yellow with their light in the morning and evening. It's an exhilarating location. Drygalski Fjord at the far eastern extremity of the island is another spectacular site in South Georgia.

Days 11/13: Southern Ocean
Our final days are spent catching up on journal entries, or perhaps downloading and reviewing photos in the multi-media room with our photography expert. A highlight of our return journey will be frequent sightings of the majestic albatross, petrels and other seabirds as they soar above the ship on the winds of the Southern Ocean.

Day 14: Falkland Islands
Approaching Sea Lion Island close to the Falkland Islands, we launch the Zodiacs and go ashore to view the incredible diversity of wildlife found at this location. Three species of penguin including gentoo, magellanic and rockhopper, as well as southern elephant seals and South American sea lions are known to inhabit the area. King cormorants and striated caracaras are just some of the bird species we expect to see.
Day 15Stanley, Falkland Islands and Punta Arenas, ChileIn the early morning, we navigate into the harbour of Port Stanley. A transfer will take us to the airport for our return flight to Punta Arenas in southern Chile (this flight is included in the price of your voyage).

Importante Voyage Logistics
Your journey starts and ends in Punta Arenas, Chile. You will need to arrive in Punta Arenas at least one day prior to the scheduled departure date. This gives you a buffer in the event of any unexpected travel delays between home and voyage embarkation and departure. From Punta Arenas we fly to Stanley (Falkland Islands) where we board the expedition ship and commence our journey. At the conclusion of the voyage we return to Stanley and fly back to Punta Arenas. (Flights are included). For guests staying in Punta Arenas, an arrival a transfer is provided from the airport to a central downtown location. (Onward flight connections to Santiago are available). Full joining instructions will be provided in your final travel documentation. If you have questions before this time, please ask us.
Trip Map
Dates & Rates
South Georgia Island In Depth

Trip Code

SGI01

Trip Length

15 days, 14 nights

Dates

2018

3-17 November 2018

Maximum group size

12 guests

Triple Share Cabin (USD)

$9,895 p.p.

Semi Private Cabin (USD)

$11,995 p.p.

Twin Private Cabin (USD)

$13,195 p.p.

Superior Cabin (USD)

$14,095 p.p.

Shackleton Suite (USD)

$15,995 p.p.

One Ocean Suite (USD)

$17,695 p.p.
Tour Expeditions Includes
• Comprehensive pre-voyage information package including details to help you prepare for your trip.
• Transfers from central meeting point in Punta Arenas to the airport on Day 1 and from Punta Arenas airport (to a downtown location) on arrival back from Stanley (Day15). Plus airport/ship transfers in the Falkland Islands.
• Scheduled flights (Punta Arenas/Stanley – return).
• Shipboard accommodation in your selected cabin category with daily housekeeping. Cabins feature outside views with windows or portholes.
• All breakfasts, lunches and dinners on board throughout your voyage with daily afternoon tea.
• 24 hour tea, coffee, hot chocolate in bar/lounge plus in cabin tea and coffee making facilities.
• Experienced Expedition Leader and professional expedition team of marine biologists, naturalists, historians, adventure guides and photographers.
• Daily off-ship excursions by Zodiac boat breaking into small groups for shore landings.
• Guided hikes and walks on shore of various durations for guests of all abilities.
• Visits to wildlife colonies, historic sites, places of outstanding natural beauty and community visits.
• Educational presentations and talks by polar experts in their fi eld (ie. marine biologists, naturalists, historians etc). Onboard or on shore.
• Resident photography guide available to assist all guests plus access to computers in the multimedia lab for image downloads, file back up and management.
• An emergency trained Physician onboard every voyage.
• Dedicated hospitality team including Hotel Manager, four chefs, professional bar staff and Adventure Concierge staff.
• Onboard sauna, plunge pool, Jacuzzi and fitness centre including personal trainer and massage options (charge applies for massage and treatments).
• Sea Kayaking programme available (additional charge of US$795pp) – must be reserved at the time of booking your voyage and you must have some prior paddling experience.
• Access to well stocked library full of polar reference books.
• End of voyage video, photos and take home USB Port fees and all permits to access visited areas.

The Expedition does not include
• Any international or local airfare unless otherwise specified in the voyage itinerary.
• Visa and passport expenses.
• Pre or post-cruise hotel accommodation unless otherwise specified in the itinerary (or pre-arranged).
• Pre or post-cruise transfers unless otherwise specified in the itinerary (or pre-arranged).
• Personal expenses on board such as alcoholic beverages, bar charges or laundry expenses.
• Telecommunication charges (ie. email, satellite phone).
• Baggage, cancellation or medical travel insurance related expenses (travel insurance is mandatory on all voyages).
• A voluntary gratuity at the end of the voyage for expedition staff and ship crew (suggested amount – US$12-15 per day).

MV Akademik Sergey Vavilov
The MV Akademik Sergey Vavilov is the perfect size ship for exploring the polar regions. She carries no more than 92 passengers. This is under the maximum number of people allowed on shore (100), as mandated by the regulatory organization for tourism activities in Antarctica and South Georgia (IAATO). Being under this limit, means you will spend the maximum amount of time on shore, on EVERY single excursion. We do not need to operate shuttles to and from the ship or run hurried excursions. This is the reality of a visit to South Georgia on a larger capacity vessel. Once on shore, we break up into smaller special interest groups, with several hiking options, perhaps a visit to a penguin rookery, a historic site or a quiet stroll along the shoreline contemplating the magic. You decide how your day unfolds. Your time in in South Georgia is precious and we aim to maximize your experience at every opportunity. A separate lounge and bar with panoramic views, as well as a library provide ideal places to sit and relax or catch up on some reading. A selection of movies and documentaries can also be watched in the lounge. The sumptuous meals prepared for you by our culinary team are enjoyed in our dining room, which can host all passengers in a single seating and will keep you feeling healthy and strong for the myriad of activities offered throughout the voyage. Other facilities include the theatre style presentation room, gift-shop, fitness room, massage room, hot water spa, sauna and plunge pool. There's also a dedicated expedition 'mud-room' where you prepare for your off-ship excursions.
Specifications
M/V Akademik Sergey Vavilov

Launched:

1988 — at Hollming Shipyards, Rauma, Finland

Length:

117 metres

Beam:

18.2 metres

Draught:

6 metres

Gross Tonnage:

6,230

Speed (Max):

14.5 knots

Cruise Speed:

13.5 knots

Passengers:

96

Staff & Crew:

65

Zodiac Boats:

10 Zodiacs onboard

Electrical Supply:

220 Volts/European Pin

Hull Classification:

Ice Strengthened

Ice Class:

Lloyds 1A

Vessel Stability:

Internal 450t water ballasted stabilizer system

Bow Thrust:

Bow thrusters + multi-directional stern thruster
Akademik Sergey Vavilov Deck Plan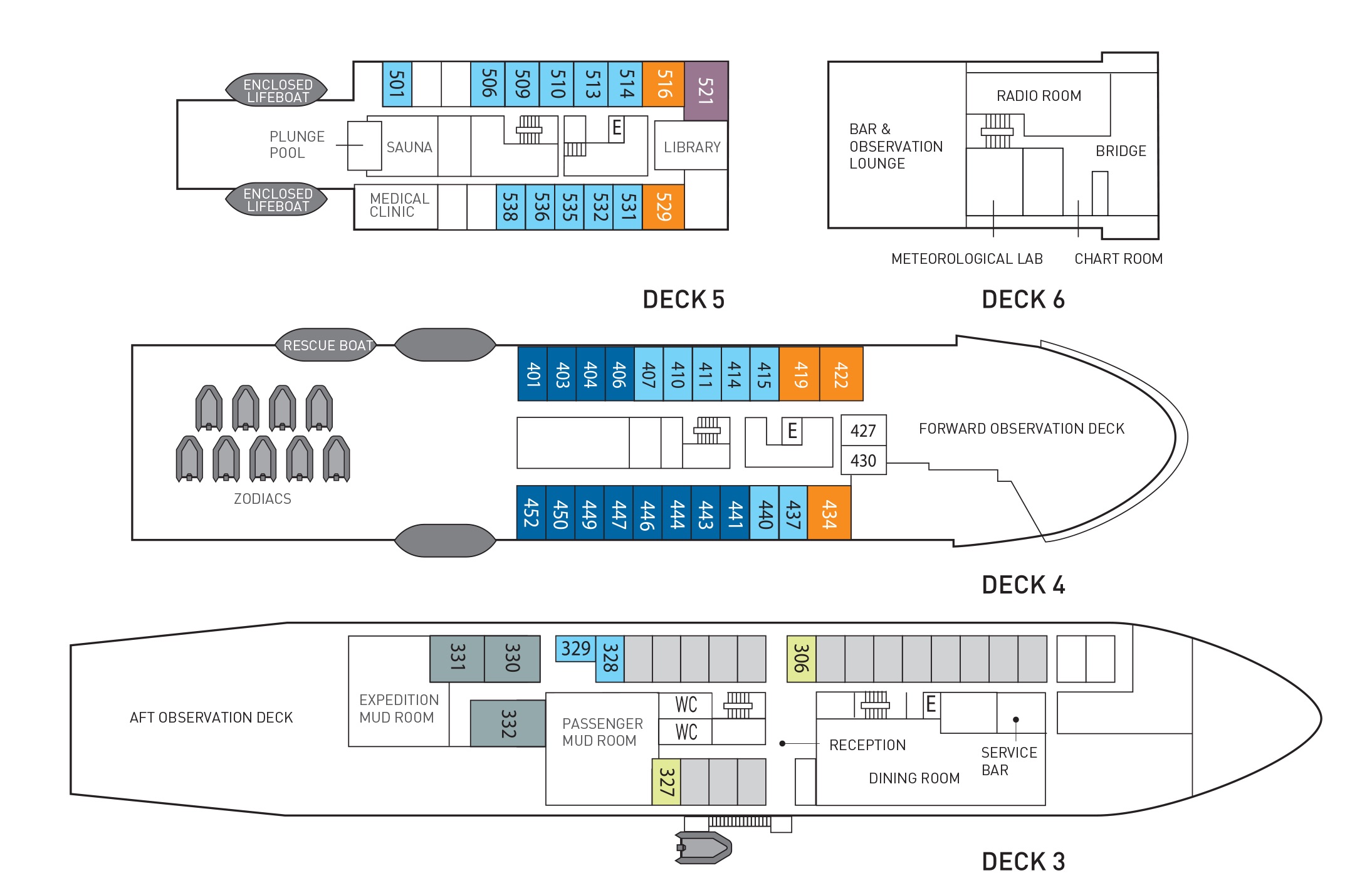 Stability and Strength
Our three ships are considered by many to be the best polar expedition ships in the world. These vessels were purpose built to conduct sensitive hydro-acoustic research and science in the polar regions and our newest addition to the fleet was purpose built for expedition cruising. The original design brief dictated that the vessels offer a very high level of stability. This is achieved through a sophisticated internal trimming system, controlled via a series of gyroscopic sensors around the vessel. The result? Our ships are the most stable vessels navigating polar waters. This stability feature is something you will greatly appreciate should you encounter less than ideal sailing conditions.
Maneuverable, Quiet and Fast
With both bow and stern thrusters and twin reversible propellers, the ship can spin on its own axis – greatly assisting embarkation of the zodiacs in windy conditions. You will notice there is little – if any – ambient noise or vibration, which makes for a quiet ship. These ships are fast, with a top speed of 14.5 knots in open water. Unmatched stability, coupled with superior speed allows for more time at your destination (rather than 'at sea') and more flexibility with itinerary planning – a critical factor in polar waters where ice and weather conditions sometimes dictate our daily itinerary.
Superb Design and Layout
Throughout the ship there are spaces ideally suited to every need. Spacious outer decks provide 360 degree views of the stunning polar landscapes – as well as a great place for an outdoor barbecue, which usually happens once on every voyage. Inside there are comfortable presentation spaces for lectures and film screenings and there's a multimedia computer lab with several large screen workstations where guests can download and back up photos.
Six Different Cabin Categories
All cabins feature outside windows allowing ample natural light to filter in. Cabins all have lower berths (some triple share cabins have one upper/lower bunk scenario and feature port holes). Specifics of cabins can be found on the DECK PLAN page. Akademik Sergey Vavilov carries a maximum of just 92 guests – making for true, small-ship expedition cruising. This is particularly important in Antarctica where visitor guidelines dictate that no more than 100 people can be on shore at any one time. We fall under this limit and that equals maximum time ashore at all locations. Ships carrying more than 100 guests compromise your time ashore.
Enjoy Great Dining? So do we
The exciting schedule of onshore excursions, zodiac cruises and onboard activities are guaranteed to work up a serious appetite. Although the ship operates in some of the most remote locations in the world, you can expect an exceptional variety of tasty meals, prepared by a team of professional international chefs. Breakfasts are usually buffet style. Lunches offer a great choice of light meals - as well as more substantial options for those who are hungry - and each evening there is a hearty three-course meal offering both variety and choice. There's also an excellent wine list featuring a range of international wines. You can get a cup of tea or coffee at any time of the day or night and we always offer afternoon tea with cakes and biscuits. Guests with dietary restrictions or special meal requirements are also well catered for.
Join us on the Bridge
There is an open-bridge policy and guests are welcome to meet the navigating crew at virtually any time of day; there's always something to learn from the officers on watch and the bridge is one of the best places on the ship for spotting whales and sea birds.
Operational Safety
There are no compromises here. The expedition staff and crew onboard Akademik Sergey Vavilov have the deepest respect for changeable weather in the polar regions and the varying sea and ice conditions. That respect is apparent in every decision made throughout the voyage. The ship carries the most extensive inventory of safety equipment on all excursions and require leaders to undergo vigorous and effective safety training programs. Your expedition team are well prepared, so you can relax and enjoy your voyage.
Relax — You're on Holiday
The ship also features a Finnish dry-heat sauna, a plunge pool, a hot water Jacuzzi, a small gymnasium and day spa with massage therapist.
An expedition gear package is included
An expedition cruise requires a fair bit of planning and some special items of clothing and equipment are needed. You will have use of an expedition wet weather gear package free of charge, which includes a quality waterproof/windproof jacket and bib-pants as well as insulated, comfortable rubber boots designed for extended walking. A set of expedition binoculars and a walking pole are also available for the duration of your voyage. This saves you buying expensive items you may only ever use once and eliminates the need to carry such cumbersome gear all the way to the ship. If you do have your own gear, of course you are welcome to bring it. Make sure it is wind and waterproof. If you have questions about gear, feel free to ask.
Comprehensive Pre-Departure Information
After you have paid your deposit and confirmed your place on the voyage, you will be sent two important booklets. The Passenger Information Booklet will need to be filled in and returned to your booking agent. A second booklet, 'Preparing for your Voyage' contains all the information you will need to get ready for the journey ahead. Information about clothing and equipment, camera gear, and life aboard the ship, will be found in this document. Print this out and refer to it as you ready yourself for the journey of a lifetime.
Travelling Alone? No problem — many expedition guests do
If you are considering travelling solo on a polar voyage and wish to avoid paying a single supplement, you can be matched up with a fellow expeditioner of the same gender. It's a system that works well and saves you having to pay a single supplement. If we can't find someone suitable to share a cabin with, you'll have sole use of the cabin at no extra cost. You won't be forced to pay extra. Some guests however prefer to have exclusive use of a cabin. In this case, a single supplement does apply, which is 1.5 x times the cabin price. (2 x times in suites). Contact us to discuss your options. Triple share cabins are also a great option to consider.
The Cabins
MV Sergey Vavilov: Main Deck Triple[/caption]

Main Deck Triple

Located on deck 3 these cabins feature two lower berths and one upper berth. One lower berth can be converted to a comfortable sofa during the day. Washroom facilities are shared. There is a washbasin in the cabin, a writing desk and chair an ample storage for all cabin occupants. These cabins are efficient and well-appointed with two portholes with the option to open one.

M/V Sergey Vavilov: Twin Semi Private Cabin[/caption]

Twin Semi Private

Located on deck 4 these cabins have two lower berths, one of which can be converted to a sofa during the day. These cabins have tall wardrobes with internal shelving for storage, a writing desk, chair, bookshelf, and a window that can be opened. Facilities are semi-private — meaning you share the washroom with the adjacent cabin.

MV Sergey Vavilov: Twin Private Cabin[/caption]

Twin Private Cabin

Located on decks 3, 4 and 5 these spacious, well-appointed cabins feature two lower berths, with private washroom facilities (sink, shower, toilet and bathroom cabinet). There are tall wardrobes with internal shelving for storage, a writing desk, chair, bookshelf, and a window that can be opened. Twin Private cabins on deck 3 feature portholes instead of windows.

M/V Sergey Vavilov: Superior Cabin[/caption]

Superior Cabin

There are three superior cabins, all located on Deck 3. These spacious and well-appointed cabins feature two lower berths, a writing desk and chair and plenty of storage space. Washroom facilities are private and all cabins have a porthole, which open. These cabins provide great access to the outer decks, the dining room and gangway.

MV Sergey Vavilov: Shackleton Suite[/caption]
Shackleton Suite

Located on decks 4 and 5 these cabins are separated into two spacious rooms, one that is ideal for relaxation with a sofa (convertible to bed), large table, writing desk, chair, ample storage and a large window that can be opened. A separate private bedroom has a double berth with upgraded linen/pillows, night light, private facilities, a region specific iPad, mini stereo, capsule coffee maker, fully stocked mini bar, iPod alarm clock with audio line.

MV Sergey Vavilov: One Ocean Suite[/caption]

One Ocean Suite

Located on deck 5 this cabin is separated into two very spacious rooms. A spacious lounge areas is perfect for relaxation and features a sofa (convertible to bed), large table, writing desk, ample storage, plus large pictures windows overlooking the bow (forward facing) that can be opened. The separate bedroom features a double bed with upgraded linen/ pillows, night light, and windows over the port side of the ship. The bathroom has a bathtub and shower. There is also a region specific iPad, mini stereo, capsule coffee maker, fully stocked mini bar, iPod alarm clock with audio line and several arms chairs.
Tour Leader
Explore with Far South Exp Co-Founder, Enrique Couve
Enrique is an Industrial Engineer by profession, although a field naturalist by true passion. One of the two founders and original driving forces behind the Far South Expeditions concept and company, he has been birding and studying the natural history of Chile for more than 45 years. He is co-author of more than 20 publications on the natural heritage of Chile and Patagonia, and among his published works is the praised 'Birds of Patagonia, Tierra del Fuego and Antarctic Peninsula'. Enrique is a very gifted field spotter, and he uses this skill on his nature photography work, as he has one of the most complete and extensive files on the flora and fauna of the country. Enrique has extensively travelled throughout Chile and South America, its oceanic islands and Antarctica. He is the main author of the long-awaited Field Guide to the Birds of Chile. He is a skilled puma tracker and a pioneer of puma trips in Patagonia. He is founding partner and manager of Far South Expeditions and lives in Punta Arenas with his wife Cecilia.
Photo Gallery
Visit our dedicated photo Gallery "South Georgia In Depth".
How to Book
Tour Registration
To book this tour, please complete our online registration form. We will process your booking form and will send you (within 24 hours) a note with space confirmation and a deposit invoice with payment instructions. The deposit amount is US$1,000 per person. Full payment of the tour fee is due 90 days prior to tour departure.NOTE: Inquires received on Saturdays, Sundays and Holidays will be replied during the following working day.
Cancellation PolicyNotice of cancellation can only be accepted IN WRITING from the person who signed the booking form and takes effect on the day such noticed is received by us.

Refunds are made according to the following schedule:
• If cancellation is made 120 days or more before departure date, the deposit less US$ 200 is refundable.
• If cancellation is made between 120 and 60 days before departure, the deposit is not refundable, but any payments covering the balance of the fee will be refunded.
• If cancellation is made fewer than 60 days before departure date, no refund is available.

This policy and fee schedule also applies to pre-trip and post trip extensions, as well as any transfers from one tour to another. We strongly recommend the purchase of trip cancellation insurance to protect yourself.